Making the change for a better future in Llandrindod

Tuesday 26th May from 7pm to 9pm
at the Herb Garden Café, Llandrindod
How might agriculture have to alter as a result of climate change?
What changes can we make now to reduce our impact on the environment?
Do you want to eat less meat, but are unsure how to begin?
Come to the Herb Garden to find out about stock-free organic growing and vegan and vegetarian cooking.
The meeting will include a presentation, food tasting, a short film and a discussion session.
The presenters are Dorienne Robinson and Sian Meredudd.
Dorienne has been a vegan for twenty years. She is a qualified teacher, therapist and chef, and has taught Vegan and Vegetarian cookery and nutrition. For her Masters Degree in Advanced Environmental and Energy Studies she analysed the ability of Powys to feed its population in 2020 in the light of post peak oil and climate change. She also proved the ability to produce fruit and vegetables in Powys on a commercial scale by developing Allt Goch Organics at St Harmon, which became a centre for training and demonstration.
Sian became vegetarian in 1976 and ran a Vegan Society stand at the National Eisteddfod each year from 1986 till 2012. She edited and mostly wrote a small bilingual magazine called the Wales Vegan/Figan Cymreig from 1985 till 2015 which has now moved to an online publication. As a member of Compassion in World Farming she learnt about stock free farming. She is a keen organic gardener and practices Vegan Organic Nurture and finds that no-dig gardening with the addition of mulches and compost on undisturbed soil works well for her, the worms and the produce!
Details
Riversimple - developers of truly sustainable vehicles
7:00pm on Tuesday 28th April at the Herb Garden Café
Llandrindod is now home to a world class company working at the forefront of sustainable vehicle technology. Riversimple set up their new research and manufacturing base in Llandrindod towards the end of 2014.
They have a simple objective:
Mobility at zero cost to the planet.
We invite you to a special social meeting where Hugo Spowers, leading designer and engineer with Riversimple, will describe their approach to developing vehicles based on hydrogen fuel cells. Riversimple are also taking a fresh approach to vehicle ownership to make eco mobility as affordable as possible for everyone.
A poster is available to help promote the event.
Details
Don't miss the April Repair Café
April 11th, 2:00pm to 5:00pm
at the Rock Park Heritage Centre
We're back to our customary venue in the Rock Park Heritage Centre for the Repair Café on April 11th. With any luck it will suddenly turn into summer before then, and everything will be outdoors under the canopy... If not, we will be running the event inside the Heritage Centre.
There's a plan to have a special session on patching clothes (especially jeans - or, rather, anything that can be patched with denim!), so if you've got any garments that are getting a little threadbare we will have the wherewithal to solve the problem!
Our usual range of fixperts will also be on hand to help you repair pretty much anything that can be repaired. We'll also be back with the popular sharpening table - putting a new edge on any household, garden or carpentry tools that have become blunted with use - eg your scissors, garden shears or chisels.
Details
Tuesday 24 March from 7 p.m. to 9 p.m.
at the Herb Garden Café, Llandrindod
New Developments on the Heart of Wales Line
A presentation by David Edwards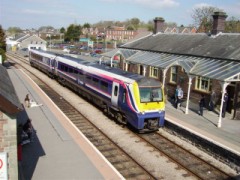 David Edwards is the Line Development Officer for the Heart of Wales Line Forum. He will be talking about the Heart of Wales Line Forum and how it fits into the railway industry, and the new initiative "Unlocking Mid Wales".
The Llandrindod Transition Town Group meets on the fourth Tuesday of each month from 7 p.m. to 9 p.m. in the Herb Garden Café, Llandrindod. The meetings are open to all, with free admittance (including hot drink and cake), a speaker or films and discussion. If you have an idea for low carbon, resilient Llandrindod that you want to put into action, or if you would like to help with events, activities and projects and meet like-minded people, TLT want to hear from you! ALL ARE WELCOME!
Details