Our Supporters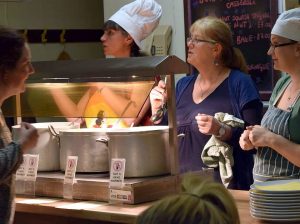 Massive thanks to the Herb Garden Community Café for hosting our SOUP parties.
At our parties, wonderful local businesses support us by donating soups so that we can keep our soup fans well fed. We always have a vegetarian, vegan and a gluten free option.
A heartfelt SOUPer THANK YOU to:
The Commodore Hotel
The Conservative Club
Dickens Wine Bar
Fabian's Kitchen
The Lakeside Cafe
The Metropole Hotel
Sugar and Spice Cafe
Van's Good Food Shop
and to ALDI for agreeing to donate ingredients for our home-made soups at EVERY SOUP party!
We also get raffle prizes donated by local businesses. We're so grateful for all these gifts because the raffle helps cover our expenses so we can keep going. If you'd like to donate something, just drop us an e mail or bring it with you to the next event – thanks.
Welcome aboard ARVON ALES who are donating profits from the sale of their Arvonoholics T shirts to SOUP to swell the prize funds. Thanks Laura and John.