Our Supporters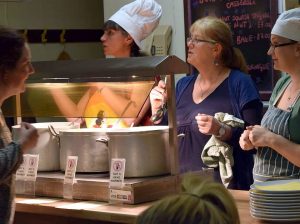 A Huge thank you to all our supporters, we couldn't run SOUP parties without you!
We have wonderful local businesses supporting us by donating soups so that we can keep our soup fans well fed. We always have a vegetarian, vegan, gluten free and dairy free options.
Here's some of the folk we're sending a heartfelt SOUPer THANK YOU to:
The Commodore Hotel
The Conservative Club
Dickens Wine Bar
Fabian's Kitchen
The Lakeside Cafe
The Metropole Hotel
Sugar and Spice Cafe
Van's Good Food Shop
and to ALDI for agreeing to donate ingredients for our home-made soups at EVERY SOUP party!
A huge thanks and shout out to ARVON ALES and Steve Horwood from LOVE SOUND LTD who donated cash to swell our prize funds.
And finally…..thanks to Trawsnewid Llandrindod Transition who funded the prize for our recent on-line sustainable SOUP competition.
Phew! What a community! We really are lucky lot to be surround by such generosity!