Got a groovy idea to do a good thing in our community? Apply to SOUP…
What sort of things can you pitch for?
We welcome pitches from people in Llandrindod Wells and the surrounding villages who have ideas that will benefit our community in some way.
It could be something simple that makes people in our community happy or a business idea that will bring money into our community. Let your creative juices flow, bring us your ideas and apply to pitch for seed funds.
Ready to apply?
Fill in our simple online application
Not sure, want to know more?
If you'd like to know more, watch our little film

Read about our past winners!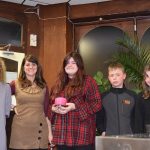 Powys Young Carers made a brilliant winning pitch for funds to buy some games and activities for their social nights where young people have get a break from their caring responsibilities.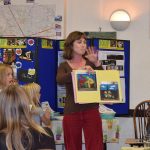 Play Radnor gave the most energetic pitch we've seen and the audience rewarded them with their votes so they could commission local artists to transform some ugly fence panels around a prominent site in the town.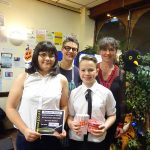 A couple of young local entrepreneurs pitched for funds to buy new equipment for their business The Popcorn People. They started trading in 2015 at the Llandrindod Youth Market selling flavoured popcorn and used their winnings to buy a crepe maker to expand their trading.
At SOUP, it isn't just about winning the funding you pitch for. One pitcher asked for funds to make curtains for a new community education centre in Newbridge on Wye. Whilst she didn't win the SOUP money, she went away with offers of material and people to make the curtains which meant that she achieved her project anyway!
Ready to apply?