Jude and Sue invite you to join them for a Slow Sunday on October 4th.
You are welcome from 2:30pm on, and please bring cake to share for tea at around 4:00pm.
From sustaining Rock House to Rock House sustaining us.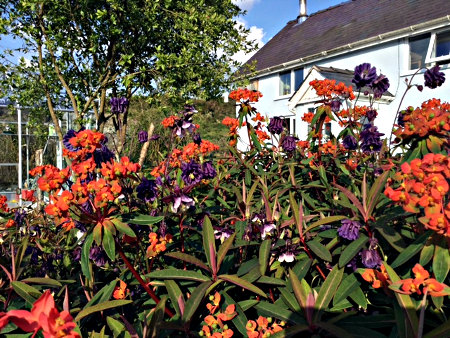 When we moved here 21 years ago, Rock House was very needy. The external render was falling off, the wooden windows were so badly rotted that the curtains blew in the breeze, there was no damp proof course and only a hint of insulation in the roof.
Part of the house was heated by a Clearview wood burner, part had no heat and the kitchen was home to a Diva of a Rayburn who only performed by consuming the most expensive anthracite eggs money could buy.
Outside there was a large grassed area which cattle had churned up and a pocket of grass being desiccated by a leylandii of gargantuan proportions.
Skip to the end and we now have a productive garden which is part of the National Garden Scheme which doesn't quite feed us full time but could if we didn't go to work! It provides soft fruit, veg and the greenhouse in year one has amazed with its bounty.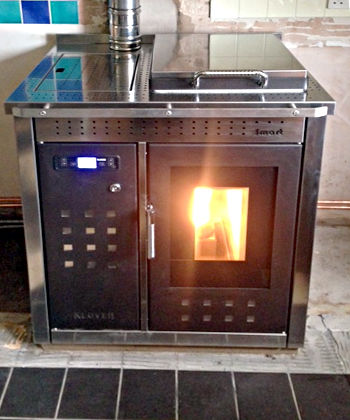 The house has been pretty much re wired, the floor in the old part of the house dug up, dug out and the original slate floor found, saved and relaid on a new damp proof membrane and dp course.
The windows have been replaced with double glazing, while the roof tiles were removed during re roof the roof void was stuffed with 'non itch' insulation made from recycled pop bottles before the old slates were replaced.
We waved goodbye to the Rayburn and installed a whole house water and space heating system run from a Klover wood pellet boiler, installed solar a Pv array and a solar cache as well as upgrading white goods to A+ or better and gradually we are converting to LED lights. Phew!
We've made mistakes along the way, there's still work to do but we're looking forward to sharing the journey with you in October at Slow Sunday.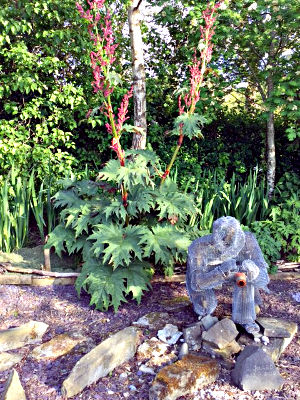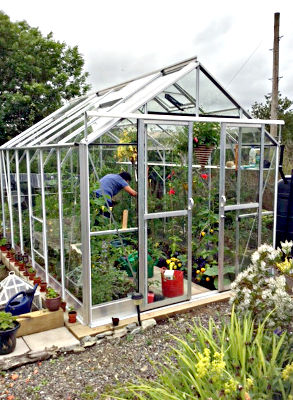 Directions
From The A483 turn into the village of Llanbister signposted B4356 to Presteigne. Go through the village past the Red Lion pub on the right, the school on the left and the church us ahead of you. The road bends to the left and goes up onto the common. Go over a cattle grid and turn immediately right up a small track. We are the only house there, park on the track and in the disused quarry.