Llandrindod SOUP has a second book for SALE now!
It's called SOUP Chapter Two!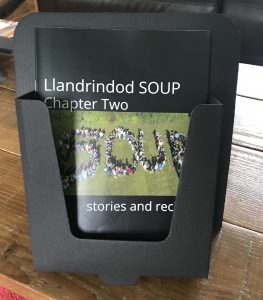 I know, it's hard to believe we can get more excited than we were at SOUPfest but yes, it's possible, and here's why! We have a NEW book SOUP Chapter Two. This is the latest volume of Llandrindod SOUP stories and recipes. It is on sale at The Metropole, Arvon Ales, KDM Newsagents and the Herb Garden for just £4! 
You can also buy on line.
In a handy A5 format it's perfect for posting to friends and family. It has 40 pages packed full of stories from people who have been part of Llandrindod SOUP over the past 4 years plus recipes for, well, mainly soup, but a few extras to tickle your taste buds.
What is Llandrindod SOUP?
SOUP is a micro funding event, bringing together local people to support people with ideas that improve our community.
It's a really simple concept, based on an idea that started in Detroit, and has since spread all over the world.
People donate a minimum of £3 to come along to an evening of live music and delicious soup. They listen to pitches from local people with ideas about how to make Llandrindod Wells and the surrounding villages a better place to live. Each pitch gets 4 minutes to win over the audience and the audience can ask the pitcher up to 4 questions about their idea. Whilst we eat our soup and listen to live local music, our audience decide which pitch they will vote for.
At the end of the night, the idea with the most votes takes away all of the donations to invest in their idea. Most winners walk away with between £100 and £200 and there's usually a 1 in 4 chance of winning!