Making the change for a better future in Llandrindod

We will be restarting on Saturday 12th December from 10:30am to 12/12:30pm at the Herb Garden Café (socially distanced) and via Zoom. For the Zoom link, please email This email address is being protected from spambots. You need JavaScript enabled to view it.
Starting topic: The Circular Economy - valuing what we have and doing things better?
A Circular Economy values all our resources, keeps what we have in use in our daily lives, designs out waste and pollution and regenerates the natural systems around us.
The Equinox to Equinox Challenge: Can we be inspired by the seasons to learn and share how to take our own small steps towards a personal circular economy?
Conversation may move on to any other relevant topic according to the participants, so grab yourself a coffee (and cake) either from the Herb Garden or your kitchen and sit in!
Green Coffee and Chat continues on the second Saturday of the month. Next one 9th January 2021
Details
While we are not currently holding any face to face meetings or events, we continue to hold monthly steering group and social meetings online via Zoom, on the 2nd and 4th Tuesdays of the month respectively. If you would like to join in, please subscribe to our mailing list to receive all the details - everyone welcome!
Details
Tuesday 25th February 2020, 7:00pm to 9:00pm
Herb Garden Cafe
Free admittance and all are welcome!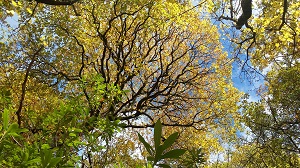 Croeso i bawb!
Can planting trees save the planet?
Planting trees is one of the best ways to draw CO
2
out of the atmosphere and lock away carbon. Trees take time to reach their full potential and we only have a decade to fundamentally change our carbon footprint before irreversible damage is done. Join Michael Cunningham, director of the locally based not-for profit Community Interest Company
9Trees
, for a discussion of carbon offsetting.
Details
Tuesday 28th January 2020, 7:00pm to 9:00pm
Herb Garden Cafe
Free admittance and all are welcome!
Croeso i bawb!
The Welsh Government and many local councils in Powys and across Wales have declared a climate emergency. Llandrindod Town Council is working with Trawsnewid Llandrindod Transition on how the council can respond to the climate emergency. What does this mean for the town, and what will come out of it?
Join us with Cllr. Keith Brelstaff for a discussion on how we can work together on a meaningful local response to the global climate crisis.
Details