Want to get involved or find out more?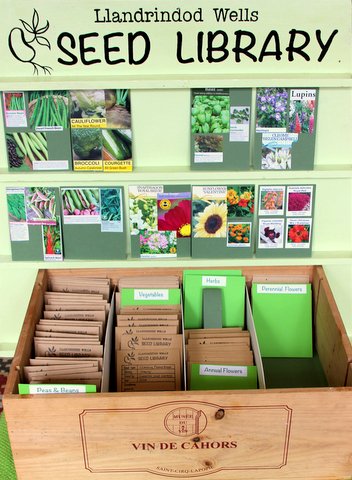 Local seeds to plant, save and share!
Incredible Edible Llandrindod has its own Seed Library. It's free to join and you can 'borrow' seed. All we ask is that at the end of the season you save some seed for yourself and some to replenish the library for next year or to grow in our community garden. In these unpredictable times the library can play an important part in food security, sustainability and self reliance for our local community.
Some crops are easy to harvest for seed and some have more specific requirements so we can provide guidance notes if you need them. We are registered with the
Wholesome Food Association
which means that we undertake to grow and process food using sustainable, non polluting methods as close as possible to those found in nature. If you aren't able to save seed then you can always make a donation towards next years seed.
See below for the latest seed list. There are lots of interesting varieties on offer from lettuce varieties, oriental mixed leaves, climbing french beans etc. If you would like to join the library and try some of the seed on offer then e-mail Catherine, our seed librarian, at
This email address is being protected from spambots. You need JavaScript enabled to view it.
Details
New food security initiative for Llandrindod Wells wins lottery funding
Last October concerned locals in Llandrindod Wells came together at an event held at The Commodore Hotel in Llandrindod Wells to discuss climate change and how the community could 'face the future' by becoming more resilient.
One of the speakers gave a presentation on food security and land use, which inspired the forming of a new group called, 'Incredible Edible Llandrindod'. The group's aim is to encourage local food production in and around the town to improve food security and reduce the carbon footprint of global food production. Food security is now even more relevant in the current pandemic.
Dorienne Robinson, spokesperson on food security said: " We want to try and grow as much food throughout the town as possible. To this end we have liaised with Powys County Council who have been hugely helpful and allowed us to start our project on a disused tennis court in the centre of town. A large variety of vegetables and fruits will be grown in planters and would be for the public to pick and use. If successful the Council may be able to offer us more space."
The group is delighted that an Awards for All funding bid has been successful, though development of the project will depend on when the current restrictions are lifted. Planning and preparation continues.
The project has also been gifted a poly tunnel, which has been put up in a garden in the middle of town. This will initially be used to propagate the plants for the tennis court and then go into seasonal 'protected' vegetable production.
Dorienne went on to say, "The group is very grateful to Llandrindod Wells Town Council for funding the raised bed and soil which is enabling the town poly tunnel to go into production. We are delighted to have them on board and supporting the project".
One key desire of the group is to encourage as many people as possible in and around the town, with gardens or even window boxes, to consider growing fruit and vegetables. This is called 'Garden Share' and allows householders to join the group and access free help with gardening know how or actual physical help if they can no longer do the hard work, or do not have the time. The produce is shared between the household and the project. The project will then offer its share at a local food hub where people can come and buy locally and sustainably produced seasonal produce.
A most important and fundamental aspect of food security is the humble seed. Incredible Edible has another string to its bow and that is the formation of a unique Seed Library for Llandrindod.
Seed librarian Catherine Smedley said, "Would you like to join the Llandrindod Seed Library? This is how it works:- It allows you to 'borrow' seed for free, grow the plants and eat the bulk of the produce. At the end of the season seed can be harvested for the following year, some for you to keep and some to return to the library for others to use.
Once you have joined we can let you know how to stay in touch, what seeds are available and how you can continue to access the library. When the time comes to harvest seed we can give advice on the best way to do that too. In these unpredictable times the library can play an important part in food security, sustainability and self reliance for our local community."
Looking to the near future Incredible Edible would like to connect with the local farming community to support future farming and local food security. One local farm has expressed interest in moving towards horticulture and setting up a local veggie' box scheme. Expressions of interest in this scheme are welcomed.
If you are interested in any aspect of the project, would like to volunteer or offer support, or would be interested in a regular veggie box, please contact us at:
This email address is being protected from spambots. You need JavaScript enabled to view it.
Details