Making the change for a better future in Llandrindod
A great milestone reached at February's Repair Café - 1000 items fixed since we began in 2014!
Diolch yn fawr iawn to all of our talented fixperts who have made this possible, and of course to all of you who take the time to bring items to the Repair Cafe to be fixed rather than throwing them away - together we're making a real difference!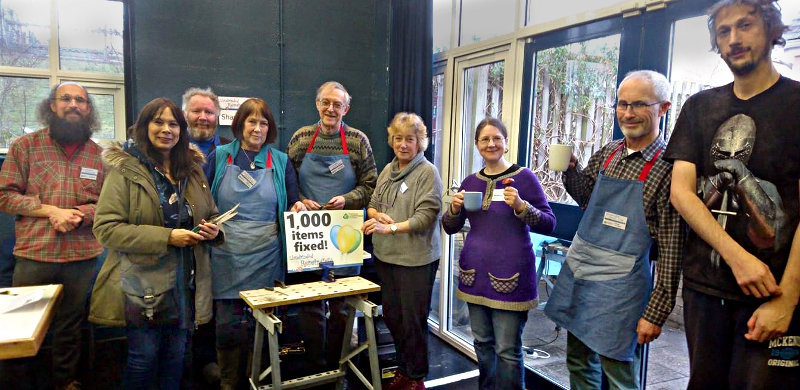 Details
Tuesday 22nd January, 7:00pm to 9:00pm
Herb Garden Cafe
Free admittance and all are welcome!

Plastic has recently been in the news as a major environmental issue, and plans are afoot to tackle the growing problem.
Already there are initiatives within Llandrindod aimed at finding alternatives to plastic packaging, from making permanent replacements to choosing stock carefully, and using local suppliers. In this meeting, local traders will share their views and experience on plastic and the alternatives, and their visions for how we can develop a more sustainable approach. We will also hear from non-traders who are setting up alternatives to disposable items.
The aim is a general discussion to discover what we can all do to both reduce our waste and encourage local sustainability.
Please download and display a poster to help promote this event.
Details
Saturday 8th December
2:00pm to 5:00pm
Hotel Commodore, Llandrindod
Come and join our celebration of Llandrindod Transition Group's 10th anniversary. The Llandrindod Transition group was set up in 2008 and we'll be looking back over the wide range of events and activities that we've been doing for local sustainability. We've also invited other groups from across the region to come and join in and tell us what they've been doing.
The format will be a series of short talks with plenty of time between for discussion, nattering, drinking tea and mince pies - somewhere between a conference and a party!
It should be both a fun afternoon and also inspiring... so please do come along and join us!
Details
Tuesday 27th November, 7:00pm to 9:00pm
Herb Garden Cafe
Free admittance and all are welcome!
Are you passionate about buying local?

Throughout the country groups of like minded people are gathering together to create 'hubs' to enable local people to sell their produce. Are Food Hubs purely about food? Not at all! Other groups have grown in different ways depending on what works in their area and what local people are looking for. Many hold thriving monthly meetings where they sell all types of local produce, crafts, food & drink.
Kerry Mills from the Seed to Saucepan project at Ashfield Community Enterprise will introduce the topic and lead the discussion. Kerry has been looking into the different models used by Food Hubs in other areas and is keen to find out what makes them successful and gather ideas on what would work here.
Come along and discuss how we could pull together all our local talent to create our very own Food Hub in Llandrindod.
(Please note this talk was postponed from October)
Details