Making the change for a better future in Llandrindod

Tuesday 25th September, 7:00pm to 9:00pm
Herb Garden Cafe
Free admittance and all are welcome!
Acorns: the once-and-future staple?
Acorns are one of our richest native food sources, and have been a major part of diets across large areas of the northern hemisphere over several thousand years. As food security becomes more of a global issue, should we look again at this forgotten resource?
Joe Botting and David Strachan will introduce the acorn as a food source, explain how to process them to make them edible, demonstrate the success of their initial experiments, and tell you how you can join in.
Details
Tuesday 28th August, 7:00pm to 9:00pm
Herb Garden Cafe
Free admittance and all are welcome!
Have you ever wanted to use a gazebo, an extra-large suitcase or a thermal camera? You probably don't want to buy or store one of these items, but would like to have access to them and many other things. A Library of Things could be the answer! Libraries of Things loan out tools (e.g. hammers, power drills and screwdrivers), household equipment (e.g. ladders, cake tins) and a surprising assortment of other things for a small fee. These initiatives save money and reduce waste.
Katja Stevens will be telling us about her plans to set up a Library of Things in Llandrindod. Everyone who may be interested in helping out with, borrowing from or contributing to the library is invited to attend.
Details
Tuesday 24th July, 7:00pm to 9:00pm

Free admittance and all are welcome!
Interested in alternative ways to grow your own?
In his short film, gardener Graham Cole demonstrates how you can feed your family on your allotment and garden using vegetable compost and green manures to obtain good crops of high nutritional value. The film will be followed with a discussion led by local gardener Sian Meredudd.
Details
Tuesday 26th June, 7:00pm to 9:00pm
Commodore Hotel
Free admittance and all are welcome!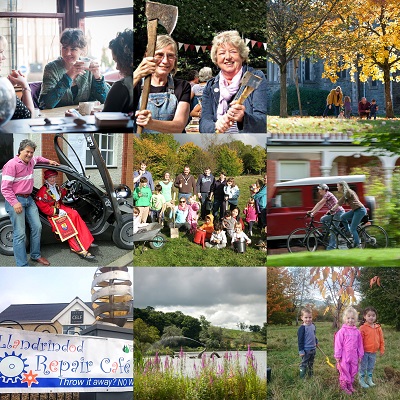 A discussion on the steps our local community can take towards becoming more self-sufficient. Come and take part and share your ideas for projects that you would like to see happen, from small gestures to grand designs!
The Llandrindod community has been doing great things to make ourselves 'future-proof''. However, with climatic impacts accelerating around the world, there is a long way to go, and worryingly little time to do it. Our dream is for Llandrindod to become a beacon for sustainability, local food production, and resilient communities. So… where do we go from here?
The evening will start with an introduction, then brief talks highlighting potential problems and opportunities in different areas, by Dorienne Robinson (Food), Sam Evans (Community) and Andy Bull (Energy). The chair will then open the discussion, with the aim of finding plans that can and will be taken forward to the next stage.
From small gestures to grand designs, all our activities combine to shape our community's future. The time has come to start taking those steps!
Please download and display a poster to help promote this event.
Details