Making the change for a better future in Llandrindod
While we are not currently holding any face to face meetings or events, we continue to hold monthly steering group and social meetings online via Zoom, on the 2nd and 4th Tuesdays of the month respectively. If you would like to join in, please subscribe to our mailing list to receive all the details - everyone welcome!
Details
Tuesday 25th February 2020, 7:00pm to 9:00pm
Herb Garden Cafe
Free admittance and all are welcome!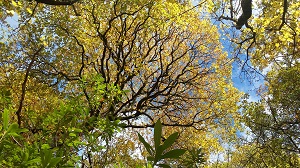 Croeso i bawb!
Can planting trees save the planet?
Planting trees is one of the best ways to draw CO
2
out of the atmosphere and lock away carbon. Trees take time to reach their full potential and we only have a decade to fundamentally change our carbon footprint before irreversible damage is done. Join Michael Cunningham, director of the locally based not-for profit Community Interest Company
9Trees
, for a discussion of carbon offsetting.
Details
Tuesday 28th January 2020, 7:00pm to 9:00pm
Herb Garden Cafe
Free admittance and all are welcome!
Croeso i bawb!
The Welsh Government and many local councils in Powys and across Wales have declared a climate emergency. Llandrindod Town Council is working with Trawsnewid Llandrindod Transition on how the council can respond to the climate emergency. What does this mean for the town, and what will come out of it?
Join us with Cllr. Keith Brelstaff for a discussion on how we can work together on a meaningful local response to the global climate crisis.
Details
Wednesday 23rd October 2019 1-8pm
Commodore Hotel
On Wednesday October 23rd we are hosting a major community event about responding to the climate emergency.
Our aim is to bring together local people to speak out and listen to one another to share in exploring what kind of a joint response we 'the community' can make to the threat to us and future generations.
It's 'not-a-conference' because the purpose is not to give out information from experts: instead we want to share the concerns of local people and consider how we might be able to influence our future – together.
There are three themes:
•
Land and the Environment
The plan for the day is for us to look at
1.
The symptoms of climate change in our community
2.
What we believe are the underlying problems
3.
What tools and resources we have available to help us to make changes
4.
What outcomes we can hope for
Check
HERE
for our latest draft programme. This may change but in essence will remain the same. The event will be held at the Commodore Hotel in Llandrindod Wells. Funding has been made available by the Transition Group and the now closed Powys Transition and Low Carbon Communities project (PTLCC) to support the event.
Tickets are available from the Herb Garden Community Café, Sugar and Spice Bistro and Van's Good Food Shop in town, or by emailing
This email address is being protected from spambots. You need JavaScript enabled to view it.
Price: £6 adult; £4 concessions (including Under 18s) or what you can afford - to include light refreshments and an event manual.
The Riversimple Hydrogen car will be on display throughout the morning outside the hotel.
The Commodore is also providing a set two course meal for £16 from midday if booked directly on 01597 822288 before 18 October.
Details