Making the change for a better future in Llandrindod
The Repair Café is Back!
Saturday 14th March, 2pm - 5pm
The Celf Centre
The second Repair Café event of 2015 will be held in a new venue - The Celf Centre (the former Theatr Powys Drama Centre).
The Celf Centre is on the corner of Trefonen Lane and Tremont Road, which is the main road north out of the town. It's in front of Trefonen Primary School, and is immediately recognisable by the gold and silver coloured spiral sculpture. There's a small car park also off-road parking in Trefonen Lane.
As always, the event is open from 2pm to 5pm.
The usual range of 'fixperts' will be back to help you fix almost anything that can be repaired, sharpened or otherwise brought back to use!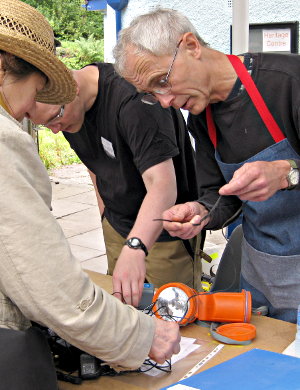 Entry to the Repair Café is free. Materials used are charged for and donations are requested to help cover costs. There will be a REFRESHMENTS counter, a SEED-SWAP table organised by Llandrindod Freegle, and a RAFFLE.
Please note: The Repair Café will be returning to the Rock Park in April when the refurbishment work to the building has been completed.
For MOTHERS DAY this year, Sunday 15th March, how about giving your mother or grandmother a unique and personalised treat, by fixing one of her treasured possessions at the Repair Café? What could be nicer for her than to have you repair something for her and bring new life to an old favourite?
Ask her! Is her LEATHER PURSE or favourite HAND-BAG coming un-stitched? is her prettiest SCARF fraying or a button loose on her best COAT? some heirloom JEWELLERY needing repair? perhaps an irreplaceable FRYING PAN with a wobbly handle? does her BIKE have a puncture? or her CD player stopped working? YOU can fix it for her. Bring it to the REPAIR CAFE on Saturday 14th March and our fixperts will show you how.
Details
Herb Garden Café Tuesday 24th February, 7:00pm to 9:00pm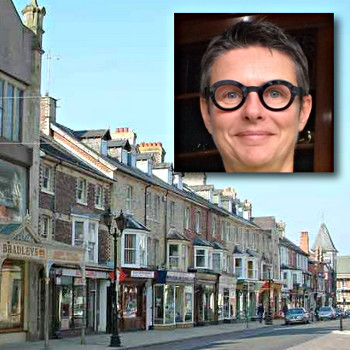 Free admittance includes hot drink and cake served at 7pm. All are welcome!
TLT are very pleased to announced the speaker at our February meeting will be Jude Boutle, who was recently appointed as Llandrindod Wells Town Champion, a one year appointment funded by the Welsh Government.
Over the past few years a group of local business people led some work through Miller Research in the town which resulted in the publishing of the Llandrindod Wells Economic Regeneration Plan (available on the Welsh Government website). The Welsh Minister endorsed this report and agreed to fund the Town Champion post. The approach being taken to regeneration in Llandrindod Wells differs from other Powys Local Growth Zone towns in that it is business led - Newtown has a peer to peer business adviser and Brecon is developing a website to showcase local businesses.
In Llandrindod, the approach is to deliver activity which will result in economic benefit for the town's businesses. There is an extensive action plan in the report so to ensure that the Town Champion's time is focused, the Business Group have identified six initial priorities which will be the subject of the talk.
Details
2:00pm to 5:00pm on Sunday 15th February
at the Herb Garden Café, Llandrindod.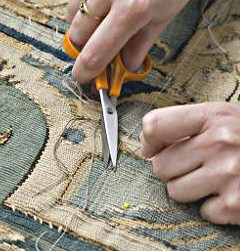 This special Repair Café event will be focusing on textiles. You are invited to bring curtains to learn how to add warm linings. Or bring garments, household linen and other textiles to learn how to make repairs such as darning, sewing on buttons, patching things, putting up a hem, and renewing elastic.
Lear how to make a "Snake Draught Excluder" (please bring your own stuffing).
There will be a textile- and sewing-theme Freegle Bring and Take stall – a chance to pass on your unwanted haberdashery!
Everyone is very welcome to enjoy a drink, a slice of cake and a chat -sewing is not compulsory!! We hope to see you there.
Entry to the Repair Café is free. Materials used are charged for and donations are requested to help cover costs. Hot drinks and cakes will be available to buy.
Details
Our first open social meeting of 2015
JAN 27th 2015: COMMUNITY- OWNED WIND ENERGY
Herb Garden Cafe 7 to 9 pm.
Free admittance includes hot drink and cake served at 7pm. All are welcome!
Owen Callender and Paul Burrell will be giving a presentation on "Community-owned Wind Energy".
Owen and Paul are Development Officers from Ynni'r Fro, a programme funded by the Welsh Government. The programme offers social enterprises funding and free, independent advice and information to help develop their own community-scale renewable energy schemes across Wales.
The talk will explore the facts and myths of wind energy; steps in developing a scheme;a review of finance and governance models; and finally will look at some case studies of what other community groups have achieved.
Details