Making the change for a better future in Llandrindod
Riversimple - developers of truly sustainable vehicles
7:00pm on Tuesday 28th April at the Herb Garden Café
Llandrindod is now home to a world class company working at the forefront of sustainable vehicle technology. Riversimple set up their new research and manufacturing base in Llandrindod towards the end of 2014.
They have a simple objective:
Mobility at zero cost to the planet.
We invite you to a special social meeting where Hugo Spowers, leading designer and engineer with Riversimple, will describe their approach to developing vehicles based on hydrogen fuel cells. Riversimple are also taking a fresh approach to vehicle ownership to make eco mobility as affordable as possible for everyone.
A poster is available to help promote the event.
Details
Don't miss the April Repair Café
April 11th, 2:00pm to 5:00pm
at the Rock Park Heritage Centre
We're back to our customary venue in the Rock Park Heritage Centre for the Repair Café on April 11th. With any luck it will suddenly turn into summer before then, and everything will be outdoors under the canopy... If not, we will be running the event inside the Heritage Centre.
There's a plan to have a special session on patching clothes (especially jeans - or, rather, anything that can be patched with denim!), so if you've got any garments that are getting a little threadbare we will have the wherewithal to solve the problem!
Our usual range of fixperts will also be on hand to help you repair pretty much anything that can be repaired. We'll also be back with the popular sharpening table - putting a new edge on any household, garden or carpentry tools that have become blunted with use - eg your scissors, garden shears or chisels.
Details
Tuesday 24 March from 7 p.m. to 9 p.m.
at the Herb Garden Café, Llandrindod
New Developments on the Heart of Wales Line
A presentation by David Edwards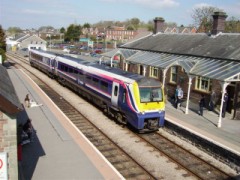 David Edwards is the Line Development Officer for the Heart of Wales Line Forum. He will be talking about the Heart of Wales Line Forum and how it fits into the railway industry, and the new initiative "Unlocking Mid Wales".
The Llandrindod Transition Town Group meets on the fourth Tuesday of each month from 7 p.m. to 9 p.m. in the Herb Garden Café, Llandrindod. The meetings are open to all, with free admittance (including hot drink and cake), a speaker or films and discussion. If you have an idea for low carbon, resilient Llandrindod that you want to put into action, or if you would like to help with events, activities and projects and meet like-minded people, TLT want to hear from you! ALL ARE WELCOME!
Details
The Repair Café is Back!
Saturday 14th March, 2pm - 5pm
The Celf Centre
The second Repair Café event of 2015 will be held in a new venue - The Celf Centre (the former Theatr Powys Drama Centre).
The Celf Centre is on the corner of Trefonen Lane and Tremont Road, which is the main road north out of the town. It's in front of Trefonen Primary School, and is immediately recognisable by the gold and silver coloured spiral sculpture. There's a small car park also off-road parking in Trefonen Lane.
As always, the event is open from 2pm to 5pm.
The usual range of 'fixperts' will be back to help you fix almost anything that can be repaired, sharpened or otherwise brought back to use!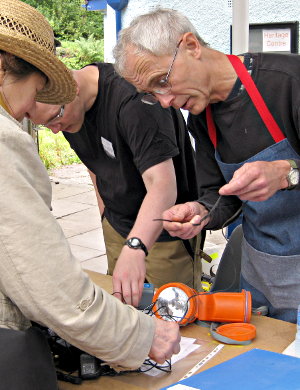 Entry to the Repair Café is free. Materials used are charged for and donations are requested to help cover costs. There will be a REFRESHMENTS counter, a SEED-SWAP table organised by Llandrindod Freegle, and a RAFFLE.
Please note: The Repair Café will be returning to the Rock Park in April when the refurbishment work to the building has been completed.
For MOTHERS DAY this year, Sunday 15th March, how about giving your mother or grandmother a unique and personalised treat, by fixing one of her treasured possessions at the Repair Café? What could be nicer for her than to have you repair something for her and bring new life to an old favourite?
Ask her! Is her LEATHER PURSE or favourite HAND-BAG coming un-stitched? is her prettiest SCARF fraying or a button loose on her best COAT? some heirloom JEWELLERY needing repair? perhaps an irreplaceable FRYING PAN with a wobbly handle? does her BIKE have a puncture? or her CD player stopped working? YOU can fix it for her. Bring it to the REPAIR CAFE on Saturday 14th March and our fixperts will show you how.
Details