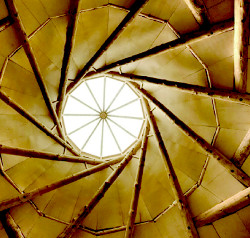 At our November Meeting, Tim Coleridge gave us a comprehensive overview of sustainable architecture in a talk titled "The Built Environment and Adaptation". Copies of his presentation are now available for members to download.
Download a copy of the presentation by Tim Coleridge. You will need to log in to download a copy.
Tim Coleridge is Programme Leader for the MSc Sustainability and Adaptation Programmes at the Centre for Alternative Technology.
Below are some links Tim has sent us on the topic of Climate Change Adaptation, in which he told us Scotland are leading the way. This sparked a lot of discussion about how we could not only work on a local Adaptation Plan for Llandrindod but also engage with the preparation of a county Adaptation Plan, through the Powys Transition & Low Carbon Communities network and PAVO's One Powys Connecting Voices programme.
Scotland:
Adaptation Scotland: home page
Adaptation Scotland: Inspirational examples of communities taking action
Wales:
Adaptation Delivery Plan: Climate Change Strategy for Wales
Preparing Wales for a Changing Climate
How Wales is Preparing for a Changing Climate
Guidance on Preparing for a Changing Climate
2013 Annual Climate Change Report
Cynnal Cymru report on the Strong Roots 2: Climate Change Adaptation project
Powys:
Powys CC Environmental Policy and Report
FOI enquiry, Feb 2014 Does Powys have a Climate Change Adaptation Strategy
Other useful resources:
UK Climate Impacts Programme UKCIP toolkit
http://www.circle-era.eu/np4/%7B$clientServletPath%7D/?newsId=432&fileName=BOOK_150_dpi.pdf
EcoAdapt home page
Climate Adaptation Knowledge ExchangeCAKEX home page
WeAdapt home page from the Stockholm Environment Institute (SEI)
Community Mapping:
Tim mentioned a Community Mapping example in Carse of Gowrie in which the community came together to map the climate change adaptation resources and issues in their area. This reminded us of our Llandrindod Green Map project started in 2008. If anyone interested in taking this up again, please join our Green Map group or This email address is being protected from spambots. You need JavaScript enabled to view it.