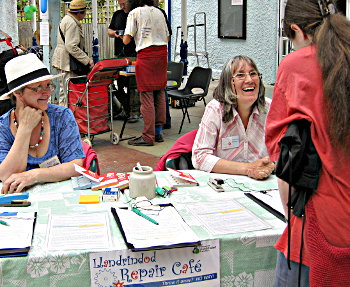 Llandrindod Repair Cafe is one of only 19 repair cafes in the UK, so we are rather lucky to have one right here in lovely Mid Wales.
As we are approaching our first anniversary, it is nice to reflect on all the many things we have repaired and helped saved from the tip.
Did you know that over 70% of broken items brought in are actually fixed by our gallant volunteers? From bicycles to bric a brac, clothes to computers, shears to scissors, they'll give it new life. We can't yet mend your gammy leg or car, but a friendly chat and a cuppa are always on offer at the Repair Cafe!
Our sharpening service has proved to be very popular, not many repair cafes offer this service. Some visitors have come back to bring more items for repair, such as a cd player or vacuum cleaner.
The repairers, affectionately known as 'fixperts', enjoy tackling an interesting mix of items. We never know what will be brought in on the day and every Repair Cafe event brings fresh surprises and challenges.
One time our 'bike doctors' fixed two new wheels on a gent's walking aid and he went home with a big smile on his face. A little girl learnt how to inflate the tyres of her bicycle all by herself. A repaired bread maker and a rice cooker could feed their owners again and an old log was converted into a 'holesome' bug hotel. More and more people from all walks of life are beginning to realise that fixing is fun!
Do not assume that we only have repairers, we also have repairesses. One handy lady assists with mending small furniture and broken crockery, just watch her handling a drill. Little trinkets such as broken necklaces or earrings have been beautifully fixed by our jewellery repairess.
The sewing ladies are dab hands with curtains, zips and patches and there is no textile job they won't have a go at We have seen sock holes big enough for a double decker bus to pass through (well, almost), but they were mended.
Then there is our chap who works with Sugru. This tough versatile material can be used for repairing many things, for example sticking broken handles back on, or mending holes in tanks. If something definitely looks broken beyond repair, Sugru will usually prove otherwise.
So what do visitors think of their local Repair Cafe? Below you can read some of their reactions in their own words:
Amazing idea
Superb service, problem solved
Willingness to share skills
Simple solution found
Reliable genuine service
Friendly and nice
Very helpful people
Diagnosed the problem, very friendly experts and great location
My cd player is working again and I thought it was beyond repair!
He didn't make me feel stupid because I didn't know how to do it
My problem was fixed!
Would have had to throw my rice cooker away otherwise
I find all the people there most welcoming, knowledgeable and talented