Autumn Planting Day - Saturday 22nd October 2016
Saturday saw people of all ages turning out to help plant more trees in the orchard. We now have 40 fruit and nut trees for the community to enjoy in the years to come, and there are even a few more in the pipeline which we weren't quite able to get in time for this planting!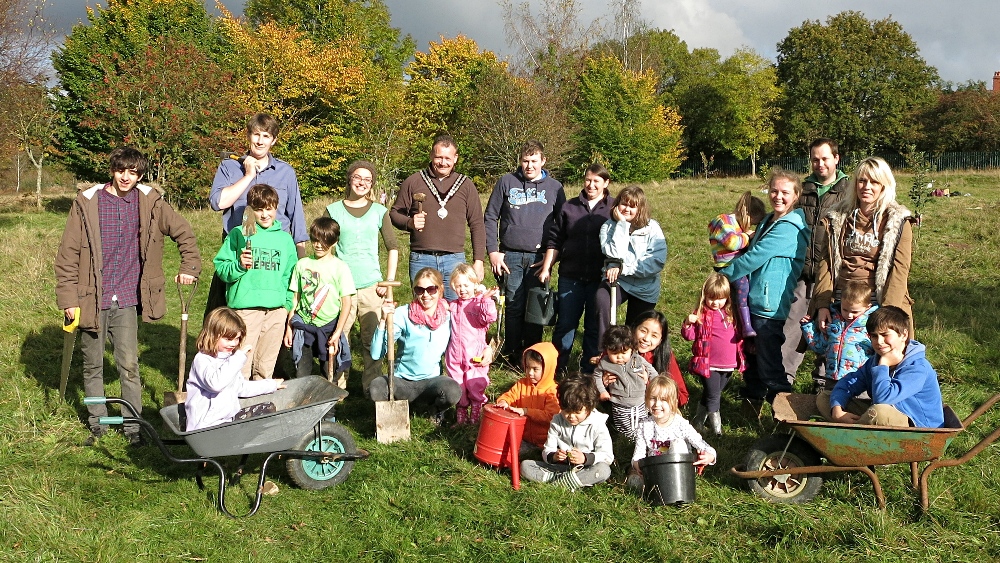 Details
A one day course
Saturday 17th September 2016, 10am – 4pm
at Trosnant, Llandrindod Wells and the Llandrindod Pomarium Community Orchard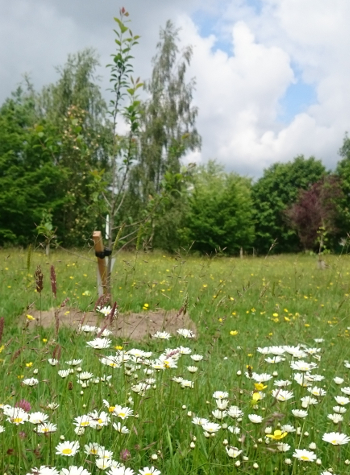 We aim to manage the orchard in as sustainable way as possible and part of the maintenance we have to do is cutting the grass! To that end, we've organised a course in the orchard on scything, both for our volunteers and for anyone else who'd like to learn the technique to use in their own gardens or other projects. No prior experience necessary!
At the moment there is a scything revival in Britain. This wonderful tool is a great replacement for the mower or strimmer.
It produces no noise, vibration or fumes & is a joy to use. Scythes can cut tough plants such as brambles, bracken, nettles & saplings through to fine grasses, lawns & wild meadows.
This one day course covers:
How to set up the scythe for your body dimensions
Selecting the right blade for the job
Altering the angle of the blade
How to sharpen the blade
How to mow with ease & flow!
Later in the day we cover how to repair blades & have a go at 'peening' the blade with the peening jig.
Austrian scythes will be available to use but if you have your own scythe feel free to bring it along.
Thanks to the support of the
Powys Transition and Low Carbon Communities network
, we're able to subsidise the cost of the course for Powys residents. The fee for the day will be £20 if you live in Powys (£42 for others). Teas and coffees and all necessary equipment will be provided.
The course is now fully booked, but if you would be interested in doing a scything course in the future, please
This email address is being protected from spambots. You need JavaScript enabled to view it.

to let us know, so that we can judge whether there is enough demand for us to put on another one.
Details
Could you sponsor a new tree for the Pomarium?
Our spring round of tree sponsorship and planting was a great success, and though we've had a few hiccups along the way, the community orchard is going from strength to strength. We're not done yet though - we've got plans to expand! We're now ready to invite more sponsors, with the aim of having another tree planting day in October - exact date to be confirmed.
We're inviting businesses, organisations, clubs and individuals (in fact anybody!) from in and around Llandrindod to sponsor a tree in their name. If you'd like to get involved then download more information and the sponsor form here and send it back to us, preferably by the end of September.
If you can't offer sponsorship, but would still like to help, remember that we're going to need plenty of volunteers to plant the trees when they get here - so watch this space for details of the planting day! We'll also be looking at starting a volunteer group in the future to help with the ongoing maintenance of the space. Please do This email address is being protected from spambots. You need JavaScript enabled to view it. if you'd like to be involved with that, or if you have any comments or suggestions at all.
If it's easier, you can download an editable version of the sponsor form.
Details
Sunday 21st August from 12:00 noon at the Pomarium
(on the former playing fields next to the Rock Park).

Absolutely everyone welcome - bring your lunch, something to sit on, games to play and your eagle eyes to spot the first of the ripe blackberries!
The picnic is on!
The forecast says that it'll be dry from 11 till 4, but bring something you can sit on as the grass is likely to be extremely damp. Some wellies might be a good idea too!
Details
Get your crayons out and help us tell everyone what the trees are there for!
Not everyone knows what a community orchard is, and people who just happen to be walking through the site might wonder why all these trees and bushes have suddenly appeared! We decided to enlist the help of the children (and some of the adults!) of Llandrindod to make some signs, to let people know that the orchard is for everyone, and to encourage everyone to take care of it. Our first batch were fabulously coloured, drawn and decorated at the 2016 Llandrindod May Fair.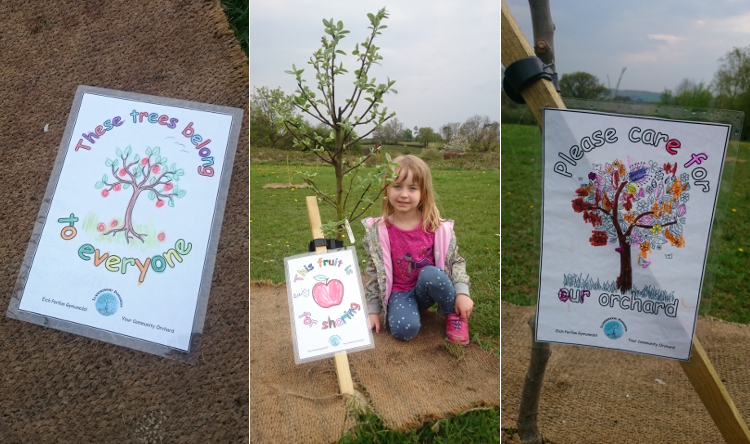 Now it's over to you...
You can download the colouring sheets here or you can design your own! Feel free to laminate them yourself and staple them to the posts in the orchard, or This email address is being protected from spambots. You need JavaScript enabled to view it.if you don't have access to a laminator and we can do it for you.
If you do laminate your sign, it helps if you cut off the grey border before laminating, so that you have a clear border to staple through. This keeps the rain out of your sign and means it will last longer!
Details