Episinus angulatus – Common H-Weaver
It's always nice to see something you've never seen before, even if it's not a rarity. This little spider took a bit of tracking down, but is so distinctive, with its angular abdomen, that identification was actually pretty easy. I found him (definitely a 'him' – the boxing gloves are how you tell with spiders!) in the compost heap, amongst a riot of springtails and beetles.
Apparently this species is fairly common in southern England, but a lot more scattered further north. There seems to be one previous record from Radnorshire, right on the border, over on the edge of the Elan Valley. I've certainly never met it before, and it's quite a striking species, so I'm sure I'd remember… however, it's a rather shy creature, and so is very easy to overlook.
The H-weavers are named because of how simple their web is: just a few strands, normally in the shape of an H, attached to twigs or plant stems, low to the ground. It's not an easy spider to find, but it is an easy one to recognise if you do. I'll certainly write about more obvious species in future, but it's going to be a mixture of the things that you might see, and the things that you probably won't but will be glad to know are there!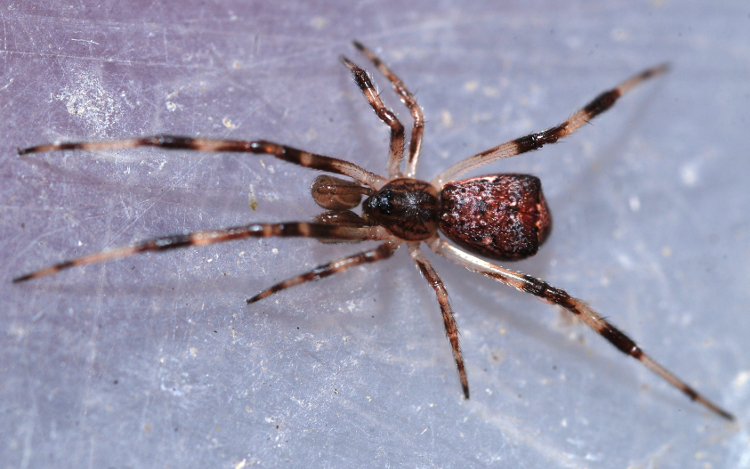 Details
Katiannidae gen. nov. 1, sp. nov.
Spring is definitely trying to get its act together, so I want to start making some regular posts about the other things that share the orchard with us. Most of them are pretty small, it's true, but they're definitely worthy of our attention.
I'll start with a species new to science. Yes, you read that right. It doesn't yet have a name, although it's known quite widely in the UK, having settled in amazingly well since its unknown arrival from ('tis thought) Tasmania… although it's never yet been seen in its native country, so nobody is completely sure where it came from!
Springtails are extremely charismatic little things, related to insects, but more primitive; the main difference is that they don't have wings, and never have had. There are many species, but the globular ones are probably the most appealing, often with spectacular patterning and a bit of an overdose of cuteness. Most of them feed on fungi or rotting plant material, and they can be found in their billions in the orchard – mainly in the woodland edges, in deep tussocks, or around the compost heaps. This species seems to be most common around the little gorse bushes by the railway line, and unlike most springtails, is often found climbing the vegetation.
Finding one isn't difficult, providing you've got a beating tray, but you're definitely going to need a magnifying glass; they grow to a maximum of around half a millimetre long!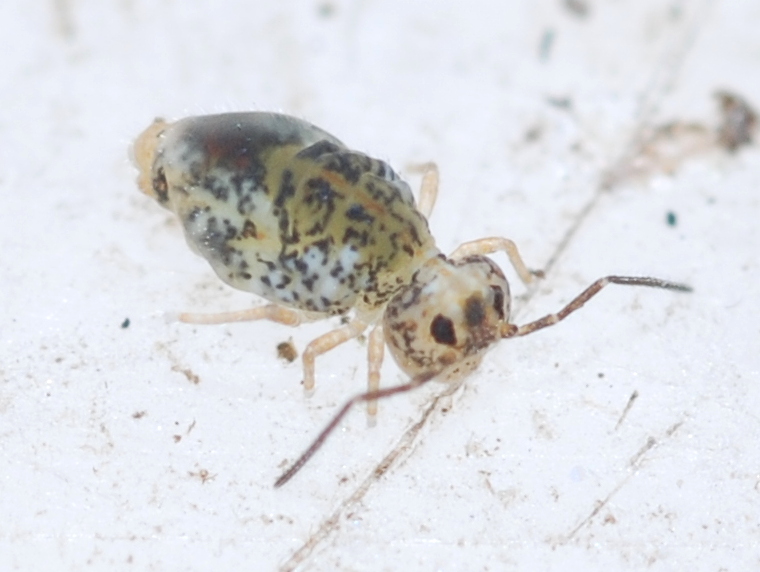 Details
A fabulous time was had by all!
About 120 people braved the cold to join in with our first Llandrindod Community Wassail on Saturday 21 January 2017. Participants came from far and wide, including the Mari Lywd Ystradgynlais, drummers, singers, the Mayor of Llandrindod and the Llandrindod Town Crier.
We hope the pictures give a flavour of the event. A brightly dressed procession went from the bandstand on Temple Gardens to the community orchard site on Alexandra playing fields. The participants decorated the trees with toast and ribbons and enjoyed mulled cider with orchard-themed nibbles. As darkness fell, Rhian Hill, acting as the Wassail Queen, gave the incantation before everyone joined in noisemaking to wake up the trees.
We could have done it without a grant from the wonderful
Llandrindod Soup
, as well as support from so many others, including the
Town Council
and
Arvon Ales
. Many, many thanks to all who helped out before and during the event!
Details
Saturday 21st January 2017
All Welcome!
We invite you to the first annual Llandrindod Community Wassail! Come along and help to celebrate your community orchard and encourage the trees for the coming year. We're still firming up the details but this is the plan so far:
3:30pm - Noisy procession from the Bandstand to the Community Orchard - bring your shakers and drums and voices!
4pm - Tree dressing, music, hot drinks and snacks in the orchard.
5pm - Wassail ceremony, more music and general merriment.
6pm (ish) - Finish
What to bring:
A torch or lantern - it'll be dark by the time we're done, so make sure you bring a light of some kind with you.
A mug - there'll be a hot drink provided for everyone. We'll get some paper cups just in case, but to help us save on waste, please bring your own cup/mug/beaker if you can.
A slice or two of toast - yes really! We'll be hanging the trees with toast as an offering to the tree spirits and to the birds.
Brightly coloured ribbons - for dressing the trees with.
A noise maker (optional) - children especially are encouraged to bring a rattle, shaker or something to bang, to help us scare away any dark spirits that might be lurking!
A musical instrument (optional) - if you'd like to join in with the music making.
Dress code = WARM. Bright colours, garish patchwork, silly hats and cloaks are actively encouraged, but above all make sure you will be warm enough.
Make sure you wear suitable shoes for potentially wet and slippy ground!
If you'd like to get involved in organising the event or helping out on the day we'd love to hear from you! Just send us a message.
Details
Autumn Planting Day - Saturday 22nd October 2016
Saturday saw people of all ages turning out to help plant more trees in the orchard. We now have 40 fruit and nut trees for the community to enjoy in the years to come, and there are even a few more in the pipeline which we weren't quite able to get in time for this planting!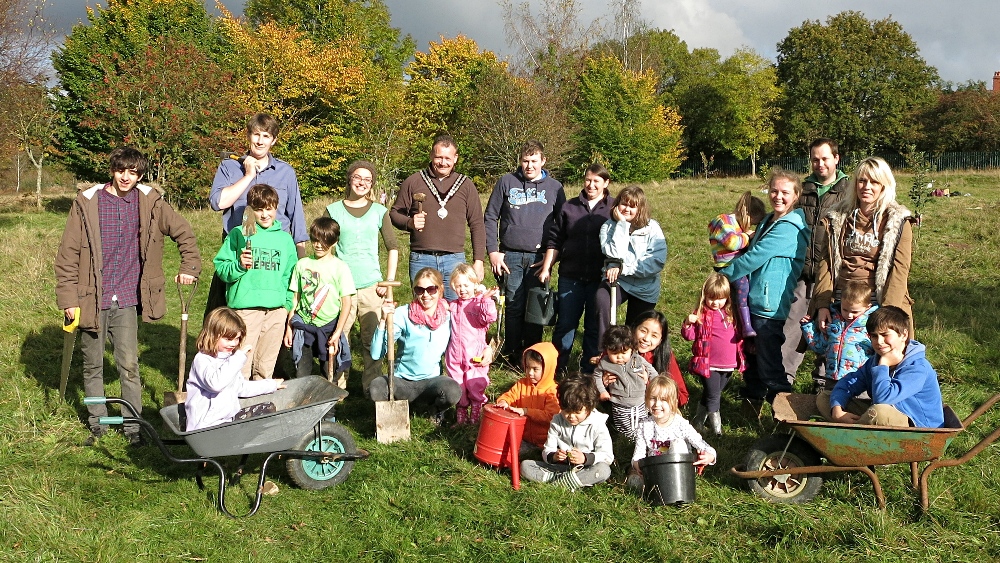 Details