Repair Café helps you fix it!
Learn to mend your broken items yourself with support from skilled volunteers.

Enjoy giving your things a new lease of life and appreciate them again.

Help reduce waste and stop things going to landfill
Llandrindod Repair Café has been running since June 2014, and was chosen by The Guardian as one of 17 top community projects from around the UK in their "Live Better" Community Project series.
The Repair Café idea began in Amsterdam in 2007 and has since been taken up all round the world.
Upcoming Repair Café dates
2:00pm to 5:00pm at Centre CELF
on the second Saturday of every month throughout 2019 (Closed December and January)
Put your unused tools to good use!
The Repair Café is an official collection point for Tools for Self Reliance Cymru. Have a clear-out of any unwanted tools or sewing machines and we will help put them to good use. Tools for Self Reliance publish a list showing the types of tools that are most in demand, but most tools will be accepted.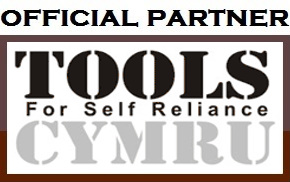 More information
Download a copy of the Repair Cafe house rules

Visit the Llandrindod Repair Café pages on Facebook

Check out our photo archive on Flickr
---
Printer stops working after a particular number of prints?
Electric appliance bust after 2 years when your previous one lasted ages?
Underwear falling apart after a few washes?
Yearning for the latest must-have mobile phone?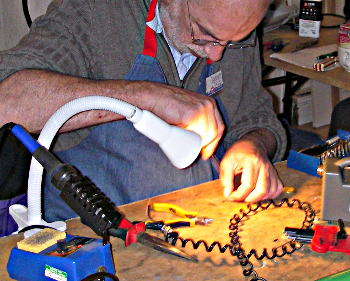 Manufacturers are forcing us to constantly update and buy new stuff. Replacement means profit, but it also means wastage of energy and raw materials and more rubbish and pollution.
Companies are also refusing to make consumer items more repairable. Service instructions are often absent or limited. Many new products are solidly glued or welded together to deliberately make repairs difficult or impossible.
Do you no longer wish to accept this "repair costs more than buying new" attitude? You are not alone. Have fun with repairing instead, with help and advice from our skilled volunteers. Did you know that as many as 50 to 70% of items brought in can be fixed at a Repair Cafe?
Some of the many articles mended at our previous events include necklaces, clothing, handbags, bicycles, electric heaters, a hedge trimmer, cd players, saucepan lids, a carpet sweeper and a clock. We even help you sharpen your blunted tools.
All this for just a small donation to cover our costs. A bargain? You bet!
Details
The Repair Café is Back!
Saturday 14th March, 2pm - 5pm
The Celf Centre
The second Repair Café event of 2015 will be held in a new venue - The Celf Centre (the former Theatr Powys Drama Centre).
The Celf Centre is on the corner of Trefonen Lane and Tremont Road, which is the main road north out of the town. It's in front of Trefonen Primary School, and is immediately recognisable by the gold and silver coloured spiral sculpture. There's a small car park also off-road parking in Trefonen Lane.
As always, the event is open from 2pm to 5pm.
The usual range of 'fixperts' will be back to help you fix almost anything that can be repaired, sharpened or otherwise brought back to use!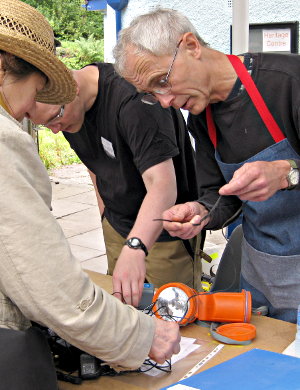 Entry to the Repair Café is free. Materials used are charged for and donations are requested to help cover costs. There will be a REFRESHMENTS counter, a SEED-SWAP table organised by Llandrindod Freegle, and a RAFFLE.
Please note: The Repair Café will be returning to the Rock Park in April when the refurbishment work to the building has been completed.
For MOTHERS DAY this year, Sunday 15th March, how about giving your mother or grandmother a unique and personalised treat, by fixing one of her treasured possessions at the Repair Café? What could be nicer for her than to have you repair something for her and bring new life to an old favourite?
Ask her! Is her LEATHER PURSE or favourite HAND-BAG coming un-stitched? is her prettiest SCARF fraying or a button loose on her best COAT? some heirloom JEWELLERY needing repair? perhaps an irreplaceable FRYING PAN with a wobbly handle? does her BIKE have a puncture? or her CD player stopped working? YOU can fix it for her. Bring it to the REPAIR CAFE on Saturday 14th March and our fixperts will show you how.
Details
2:00pm to 5:00pm on Sunday 15th February
at the Herb Garden Café, Llandrindod.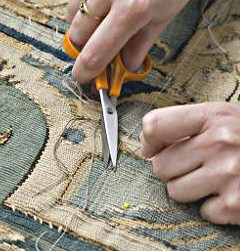 This special Repair Café event will be focusing on textiles. You are invited to bring curtains to learn how to add warm linings. Or bring garments, household linen and other textiles to learn how to make repairs such as darning, sewing on buttons, patching things, putting up a hem, and renewing elastic.
Lear how to make a "Snake Draught Excluder" (please bring your own stuffing).
There will be a textile- and sewing-theme Freegle Bring and Take stall – a chance to pass on your unwanted haberdashery!
Everyone is very welcome to enjoy a drink, a slice of cake and a chat -sewing is not compulsory!! We hope to see you there.
Entry to the Repair Café is free. Materials used are charged for and donations are requested to help cover costs. Hot drinks and cakes will be available to buy.
Details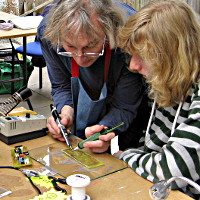 The next two Llandrindod Repair Café events will take place on Saturday 18th October and Saturday 15th November in the Rock Park, Llandrindod Wells, from 2 to 5 p.m.
Please bring along your broken and damaged items from home!
A variety of fixperts will be present to repair such things as small electrical items, computers, clothes, leather items and bicycles.
Tools and materials will be on hand; people are encouraged to make repairs themselves where possible.
Entry to the café is free (donations are requested to cover running costs). Items fixed at previous events include necklaces, handbags, bicycle wheels, electric heaters, saucepan lids, and even a carpet sweeper!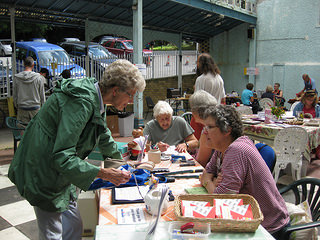 The café's slogan is "Throw it Away? No Way!"
By promoting repairs, Trawsnewid Llandrindod Transition wants to help reduce the mountains of waste.
The Repair Café is also meant to put the local community in touch with each other in new ways, and to help people discover that a lot of know-how and practical skills can be found close to home.
Llandrindod Repair Café was recently featured on the Guardian website as a shining example of a local community group. Joe Botting, speaking for the Repair Café organisers, said "It's nice to see the hard work of all the fixperts and volunteers being recognised. We hope that this publicity will encourage other people to set up Repair Cafés elsewhere."
Details