The Repair Café has returned to CELF*
Learn to mend your broken items yourself with support from skilled volunteers
Enjoy giving your things a new lease of life and appreciate them again
Help reduce waste and stop things going to landfill - be part of the circular economy!
Llandrindod Repair Café has been running since June 2014, and was chosen by The Guardian as one of 17 top community projects from around the UK in their "Live Better" Community Project series. In 2019 it celebrated its 1,000th repair. The Repair Café idea began in Amsterdam in 2007 and has since been taken up all round the world. No charge but the cost of any parts must be paid for and donations towards running costs are always gratefully received
Second Saturday of the month 2 - 5pm
CELF Tremont Road Llandrindod Wells LD1 5EB
* PLEASE NOTE - The Hive can no longer accept items for repair or collection unless by special arrangement with the Repair Cafe
**** VOLUNTEERS NEEDED including FIXERS WITH SUITABLE SKILLS, GENERAL and ADMIN HELPERS ****
Enquiries via our Facebook page or email llandrindodrepaircafe@gmail.com
Put your unused tools to good use!
The Repair Café is an official collection point for Tools for Self Reliance Cymru. Have a clear-out of any unwanted tools or sewing machines and we will help put them to good use. The Repair Cafe has a list of wanted tools, but most items will be accepted (especially workshop tools). Items can be brought to The Hive, South Cres, Llandrindod Wells LD1 5DH between 10 - 4 Monday-Frioday.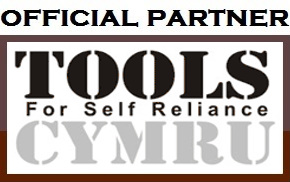 More information
Download a copy of the Repair Cafe house rules

Visit the Llandrindod Repair Café pages on Facebook

Check out our photo archive on Flickr
---
At the Repair Café on July 8th we handed over a load of tools that our generous visitors have donated over the past few months. Ian Jones from Tools for Self Reliance Cymru (second from right in the photo) also brought along a range of new gardening tools for sale made by the community organisations in Africa that they support. Also in the photo are a number of our regular "fixperts" who between them repair dozens of items at each Café.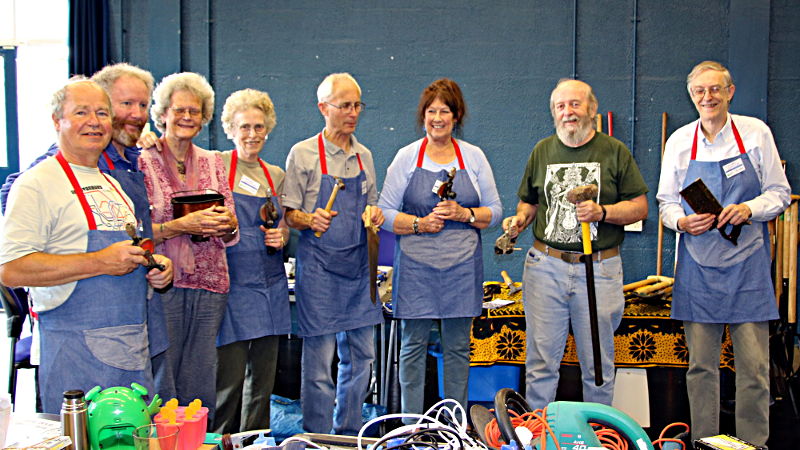 Details
Do you know anyone interested in setting up a Repair Cafe in their own area?
On the morning of Saturday 11th March we will be running a workshop session for people who want to learn from our experience of running the Llandrindod Repair Cafe.
For full details and to book a place visit the Repair Cafe Workshop page on Eventbrite. Places are limited and booking is essential.
Details
The Repair Cafe is now an Official Partner for Tools for Self Reliance Cymru
If you have tools or equipment lying unused in your shed, loft or garage now would be a great time to have a clear out and help support the work of Tools for Self Reliance Cymru.
Some tools and equipment are particularly in demand by community workshops in Africa. You can check this list of what it currently most wanted, but pretty much any tools or equipment will be accepted as long as they're in working order or repairable.
Bring your unwanted tools to the next Repair Cafe and we'll store them until we have a load which can be transported cost-effectively to their depot in Crickhowell.
Details
Sunday 13 March, 2:00pm to 5:00pm
at the Herb Garden Café, Llandrindod
Our first event of 2016 will be a special Repair Sunday at the Herb Garden Café, Llandrindod.
Please bring along anything that needs sharpening or repairing: kitchen knives, kettles, kites, kazoos, knick-knacks …
Several experts in jewellery repair will be attending, so this is your opportunity to get that necklace restrung!
Entry is free (donations are requested to cover costs), and hot drinks and cakes are available for purchase.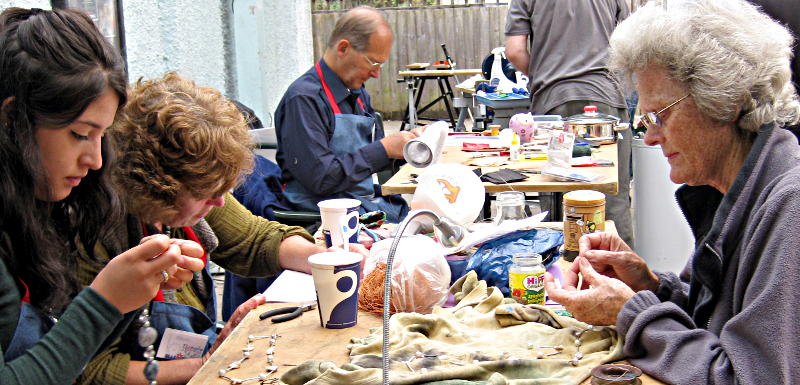 The Repair Café will be running events throughout the summer. Our new 2016 programme will be published soon. Sign up for our monthly newsletter to keep updated with all Repair Cafe events.
Details