Repair Café helps you fix it!
Learn to mend your broken items yourself with support from skilled volunteers.

Enjoy giving your things a new lease of life and appreciate them again.

Help reduce waste and stop things going to landfill
Llandrindod Repair Café has been running since June 2014, and was chosen by The Guardian as one of 17 top community projects from around the UK in their "Live Better" Community Project series.
The Repair Café idea began in Amsterdam in 2007 and has since been taken up all round the world.
Upcoming Repair Café dates
Saturday 8th September 2018 - 2:00pm to 5:00pm at Centre CELF
and on the second Saturday of every month throughout 2018 (Closed December and January).
More information
Download a copy of the Repair Cafe house rules

Visit the Llandrindod Repair Café pages on Facebook

Check out our photo archive on Flickr
---
The Repair Cafe is now an Official Partner for Tools for Self Reliance Cymru
If you have tools or equipment lying unused in your shed, loft or garage now would be a great time to have a clear out and help support the work of Tools for Self Reliance Cymru.
Some tools and equipment are particularly in demand by community workshops in Africa. You can check this list of what it currently most wanted, but pretty much any tools or equipment will be accepted as long as they're in working order or repairable.
Bring your unwanted tools to the next Repair Cafe and we'll store them until we have a load which can be transported cost-effectively to their depot in Crickhowell.
Details
Sunday 13 March, 2:00pm to 5:00pm
at the Herb Garden Café, Llandrindod
Our first event of 2016 will be a special Repair Sunday at the Herb Garden Café, Llandrindod.
Please bring along anything that needs sharpening or repairing: kitchen knives, kettles, kites, kazoos, knick-knacks …
Several experts in jewellery repair will be attending, so this is your opportunity to get that necklace restrung!
Entry is free (donations are requested to cover costs), and hot drinks and cakes are available for purchase.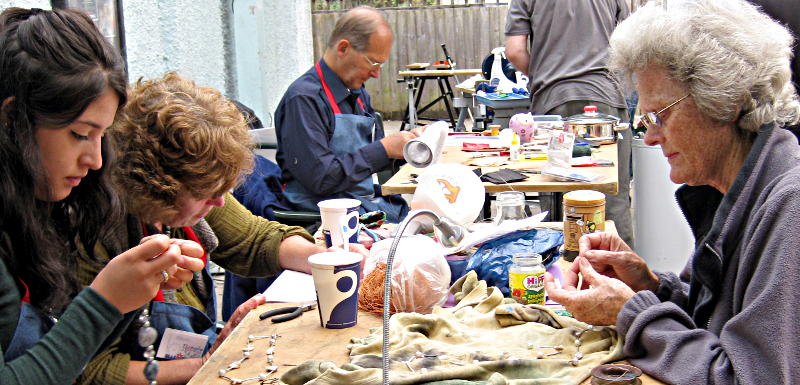 The Repair Café will be running events throughout the summer. Our new 2016 programme will be published soon. Sign up for our monthly newsletter to keep updated with all Repair Cafe events.
Details
At Ashfield Community Enterprise, Howey.
Saturday 12th September, 11am - 4pm
TLT are supporting the Ashfield Harvest Festival by running a mini Repair Café.
The last time we ran the Repair Café at Ashfield we sharpened a record of 47 items!! The sharpening bench will be returning to see if we can beat that record, so bring along your shears, knives, axes and any other hand or gardening tools that need their blades restoring.
Also on the Repair Café stand, Hilary Macaulay will be showing you how to build bird boxes from offcuts of timber. Come along and see how you could do it yourself.
Details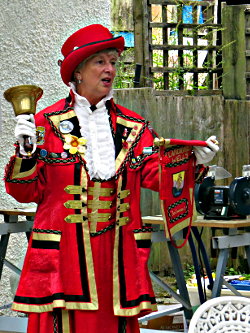 Everyone enjoyed a happy and hectic afternoon during the first anniversary celebrations of Llandrindod Repair Café on July 18th 2015.
The special Anniversary Café in the Rock Park was opened by Jan Swindale, the Llandrindod Town Crier and Chris Rouse, the Mayor of Llandrindod, cut the delicious anniversary cake.
A novel item coming in for repair was a light sabre ... May the Force be with us!

Other broken items which were repaired included a lawnmower, a vacuum cleaner, two stereos, a teasmade, a small cabinet and a vintage typewriter. Sharpening was popular as usual, with many garden shears, knives, lawnmower blades, loppers and secateurs receiving a sharp edge.
The Great Chair Repair Challenge was also a big success on the day. An old broken and unloved kitchen chair was saved from going to the tip and it was chalk painted by Patrick from "Junk & Disorderly" and re-upholstered by furniture fixer Hilary. The revamped chair looked magnificent and was raffled and taken home by the delighted winners.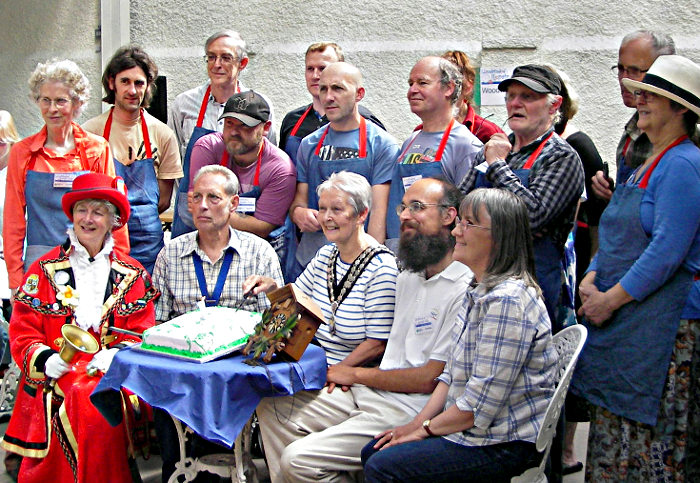 A short video was made of the day which gives a guided tour of all the activities.
Details